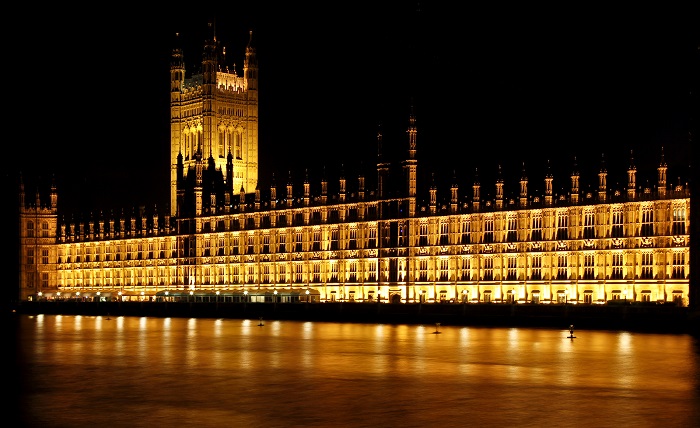 A debate in the House of Lords, 27th November, 2014
Editor's Note: The following exchange in the House of Lords, on the role of meditation, could not have taken place fifty or even twenty years ago. That it took place at all indicates the extent to which practice of meditation has penetrated our society. Predictably, the response (particularly Lord Ahmad's) was not all positive. Indeed it was somewhat cynical. However Lord Stone showed considerable courage in speaking out on the role of religion, knowing that in all probability he would become an instant target.  (Paul Kieniewicz)
 Lord Stone of Blackheath (Lab):
My Lords, there is a vital role and a need in public life for those principles of compassion, understanding and spiritual enlightenment that are at the heart of religions and their associated beliefs. Yet, particularly as I work in the Middle East, I often find a disastrous disconnect of religion and belief from the feelings of heart, mind and soul that they should engender. As the noble Lord, Lord Singh, said, in public life we have a choice. We can either act selfishly, thinking first of me and my family and my tribe and what I want now and for the next week or the next year, or, with a little more open heart and mindfully, we can proceed with a higher level of consciousness, thinking of the impact of our actions on all beings for all times.
This mindfulness and higher consciousness is at the heart of most religions and the great traditions of the East. Although one does not need to have a religious belief, many of the sustained religions and philosophies have methods, rites and ceremonies that are designed to enable one, through contemplative practice, to engender in oneself such mindfulness. Mindfulness is complexly defined because it is an experience and not a theory. In Judaism, Taoism, Buddhism and other traditions, one cannot speak of it. It is known to be ineffable.
When he spoke on the Parliamentary Estate last year, Jon Kabat-Zinn put it simply as: "Mindfulness means paying attention in a particular way, on purpose and non-judgmentally, to the unfolding experience moment by moment". Evidence shows that even short periods of mindfulness practice reshape neural pathways, increase the areas associated with kindness, compassion and rationality and decrease those involved with anxiety, worry and impulsiveness.
A religion and belief in one's private life may help one in public life; it is not easy to maintain this mindful state in public life, but those who have these beliefs, by adhering to certain practices and communal ceremonies, can experience a heightened state of consciousness to connect with something greater than their habitual selves, which puts them in a state where compassion and empathy come to a fore, values come before self and one is better able to see and understand other people's points of view. However, there is a danger here, as articulated by the noble Baroness, Lady O'Neill. Believing that your particular religion or belief is the only path is an illusion. These rituals and rites are not ends in themselves; only when you use them skilfully does mindfulness arise.
I cite some examples in public life, starting with my own field of business and philanthropy. In Oxford this month, wealthy American investors, foundations and philanthropists, under the umbrella of the Cavendish Global Forum, with the help of an enlightened international "connectress", Amber Nystrom, met some great people who were developing various social enterprises aiming to do the most good across the world. The US impact investors wanted to ensure that their money could flow into good things that would benefit all beings for all time yet still have a commercial return. They know that a belief in a higher purpose can help to make enterprises grow faster and prosper.
In education, I have spoken before about the successful Mindfulness in Schools project, a collaboration with psychologists at Oxford, Cambridge, Exeter and Bangor universities. It is an eight-week course written by teachers for teachers; the curriculum has been translated into eight languages and is being taught effectively in 38 countries. In health, mindfulness has been verified by NICE to be more effective than drugs and other therapies for many mental and physical illnesses. In the criminal justice system, mindfulness is used effectively for criminals, victims and police.
Finally, pulling this all together, we have here an active, vibrant All-Party Parliamentary Group on Mindfulness, which has been asked to present its work to the German and Dutch Parliaments as well as to the Knesset and other Parliaments. The APPG is currently writing a report to be ready in January for a strategy in the UK for mindfulness in education and health—we will give this evidence to the new mental health taskforce—the criminal justice system, business and government.
Religion and belief have important roles to play in public life as long as they are being used to engender mindfulness. On the flipside, mindfulness in the absence of some of these rich, centuries-old traditions and religions can be limiting. I ask the whole House to take note of the report on mindfulness strategy in the UK, which will be completed next year. Perhaps we might have an interesting debate here on that subject in your Lordships' House.
Noble Lords might want to try mindfulness for themselves. The APPG has arranged that on every Tuesday on the estate, Chris Cullen from the Oxford Mindfulness Centre runs classes that take an hour and a half once a week for eight weeks. There are separate classes for Lords and MPs in one session and for staff in another. Some 115 Lords, MPs and staff have taken part and have enjoyed and benefited from these sessions in the past 18 months, and we are about to start session in the spring.
Baroness Sherlock (Lab): (A former commissioner of the Equality and Human Rights Commission)
My noble friend Lord Stone of Blackheath may be interested to know about the London Buddhist Centre. He may already know about Breathing Space, which uses mindfulness to tackle mental health problems and addiction.
Lord Ahmad (Con) (Parliamentary Under-Secretary of State, Department for Communities and Local Government (Lord Ahmad of Wimbledon)
I am sure that noble Lords are aware that the Government have opened a consultation on the teaching of faith at GCSE and A-level. I encourage all noble Lords to contribute to the consultation, which I believe closes on 29 December. I feel a bit like the noble Lord, Lord Stone, plugging the mindfulness course—I am sure that that was also noted by many a noble Lord and that they will be lining up to sign up after this debate.
by Paul Kieniewicz