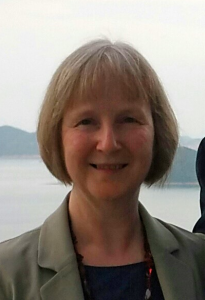 Catherine Thom is a solo classical guitarist, performing nationally and internationally since the age of twelve. Her numerous television and radio broadcasts, workshops and masterclasses, complement her extensive career as a recitalist, including acclaimed performances at London's Wigmore Hall. At sixteen she taught at the University of Ulster, Stranmillis University College, and the City of Belfast School of Music, and she later lectured in Music at Plymouth University.
Due to a recent family illness, concert touring has been on hold, and Catherine has become a ceramicist, working for 18 months within the Leach tradition, with Jeremy Leach (grandson of Bernard Leach) at Lowerdown Pottery, Devon, then exploring ideas of Music and Clay within an MA in Ceramics at Plymouth College of Art. She hopes to extend this shortly within a PhD.
Catherine was a member of the SMN for many years, having been invited both to join, and to co-run the student course 'Wider Horizons' by the founder member, George Blaker. She has served as a long-standing member of the SMN Board.
References