Tibor Putnoki at Lampeter and venues throughout Wales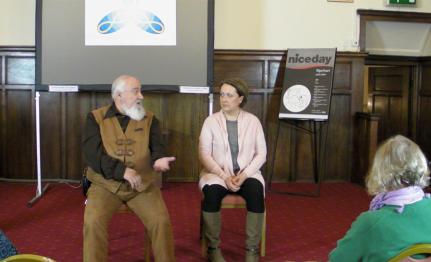 On 16 and 17 March 2015 the Lampeter and West Wales convenor hosted a double event arranged by the Light of Love Organisation as part of a tour of Wales by Tibor Putnoki. Angela Youdale, at <[email protected]>, is the organiser of his visits to our island, and he comes to Britain from time to time to share with audiences his experience of death, and his return, nine minutes later, to physically-embodied terrestrial life.
The question of our survival after physical death is probably the most important question we ever face. It is the whole raison d'être of religion, and must be a prime concern of science in the proper sense of the term, namely that of an honest and open enquiry which results in formal and rational knowledge and understanding, a journey from uncertain hypothesis to theory acceptable as truth. Yet neither materialist scientists and philosophers, on the one hand, nor the Church on the other, seem to take any interest in such events, whilst we in Lampeter, and others at venues throughout Wales, were able to listen to the personal account of someone who had been declared dead according to all the medical criteria. One is reminded of Yahshua's parable of the wedding guests who were too full of their own affairs to respond respectfully and gratefully to their invitations, and whose places were taken by the much more willing common people.
However, despite the professional disregard, the subject is slowly becoming topical, and the Lampeter events were well-attended. Related events convened elsewhere in Wales also succeeded, and I am told that people had to be turned away at Llandysul on account of overcrowding of the chosen venue. At Lampeter, I, the local SMN convenor, made both a reasonably successful video and a reasonably successful sound-only record of the first evening's event, and (on account of a silly mistake using unfamiliar equipment) a sound recording only of the question and answer session on the following evening. Despite the resulting failure to video-record the second evening, Dr Penny Sartori, the well-known primary researcher of Near-Death Experiences, who could not attend the Lampeter events, may, nonetheless, be able to use some of the matter recorded there for a series of short films on NDEs that she is making. She was also able to hold an interview with Tibor himself. The said convenor now has new and better equipment for both video-recording and sound recording, and hopes to make it a habit to record the Lampeter events – subject to speakers' wishes, of course.
Eric Franklin, convenor
As a newcomer to the Scientific and Medical Network I was delighted to attend a talk by Hungarian-born Putnoki Tibor* about his near death experience (NDE). The talk took place in the Old Hall, The University of Wales Trinity Saint David, in Lampeter, Ceredigion. Tibor has a long white beard and was wearing a brown tunic and turned-up leather shoes, which made him look other-worldly, rather like a wise woodland elf! Tibor does not speak English and I enjoyed hearing him tell his story in his native Hungarian and having it translated; it slowed down the proceedings and gave more time to absorb what he was saying.
Tibor comes across as warm and authentic, and his simple story about his life and what led up to his 9-minute NDE made his account highly believable. There is such a consistent pattern to these stories: going towards the light, out-of-body experiences, seeing your life flash before your eyes, the feeling of love and wellbeing, that it is difficult, even for the more scientifically inclined amongst us, to entirely disbelieve them. In Tibor's case he did not have a religious or 'new age' background, so it would seem improbable that he would have known much about this kind of experience before it happened to him.
In my case I have had several out-of-body occurrences (although not near death), and how Tibor described these events certainly tallies with my own experience.
Tibor said that his NDE changed his life (well I guess it would!). He said that when he saw his life laid out before him what hurt him the most was how he had sometimes been indifferent to people when he could have so easily helped them. Tibor, and his delightful wife, Piroska (they have been married for 40 years), subsequently started an organisation called the 'Light of Love', with the simple tenet of "Love, and live according to your conscience". There were quite a few of his followers at the talk, although happily I saw no attempt to proselytise.
The talk was inspiring and hopeful and I came away feeling happy and energised. If you missed Tibor's talk, I urge you to go to see him if you get the opportunity (if and when he is back this way). Whether you believe or disbelieve his story, I think you will find it food for thought.
*In Hungary the surname comes before the first name.
Sarah Eyles, SMN member