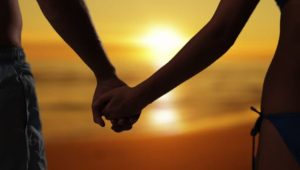 Why do lovers hold hands? Because it feels good, brings comfort? It may also be sexually arousing. A recent study published in the Proceeding of the National Academy of science demonstrates that the wave patterns of the lovers' brains also synchronize, and can result in significant pain alleviation.
The study was conducted by researchers at the University of Colorado, Boulder and at the University of Haifa.  Lead researcher Pavel Goldstein, at the Cognitive and Affective Neuroscience Lab at CU Boulder took 22 heterosexual couples who had been with each other at least a year. He monitored their brain activities (EEG) while they sat together, held hands. At times one of them was subjected to mild pain via heat. As long as the couples sat next to each other, their brain waves tended to synchronize. However, the effect became significantly stronger when they held hands. When the couples could not touch each other, the synchronization decreased. Pain also interfered with the synchronization, but touching brought it back. The synchronization correlated with significant pain reduction.
The study only included heterosexual couples, and did not consider gay relationships, or short-term relationships. An earlier study showed that touching among romantic couples resulted in synchronization of respiration and heart rates.
That holding hands or touching results in pain reduction is not in itself a revolutionary idea. Anyone experiencing pain knows that holding the hand of a loved one makes the pain less acute. Healing through touching is an art as old as mankind. However, the present study shows that touching is particularly important, and results in synchronization of brain patterns, heart rates and other physiological functions. This appears to result in pain alleviation — though how or why that happens is not clear.
Lovers, married couples often notice how they tend to think of the same thing at the same time — often when no external cue is evident. Perhaps their brains are already synchronized along with their thoughts.