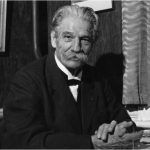 Albert Schweitzer (14 January 1875 – 4 September 1965) was a French-German theologian, organist, philosopher, and physician. He was born in the province of Alsace-Lorraine and although that region had been annexed by the German Empire four years earlier, and remained a German possession until 1918, he considered himself French and wrote mostly in French.
Schweitzer, a Lutheran, challenged both the secular view of Jesus as depicted by historical-critical methodology current at this time in certain academic circles, as well as the traditional Christian view. His contributions to the interpretation of Pauline Christianity are noteworthy because they concern the role of Paul's mysticism of "being in Christ" as primary in importance rather than the secondary doctrine of Justification by Faith.
He received the 1952 Nobel Peace Prize for his philosophy of "Reverence for Life", expressed in many ways, but most famously in founding and sustaining the Albert Schweitzer Hospital in Lambaréné, now in Gabon, west central Africa (then French Equatorial Africa). As a music scholar and organist, he studied the music of German composer Johann Sebastian Bach and influenced the Organ reform movement.
Bibliography
References