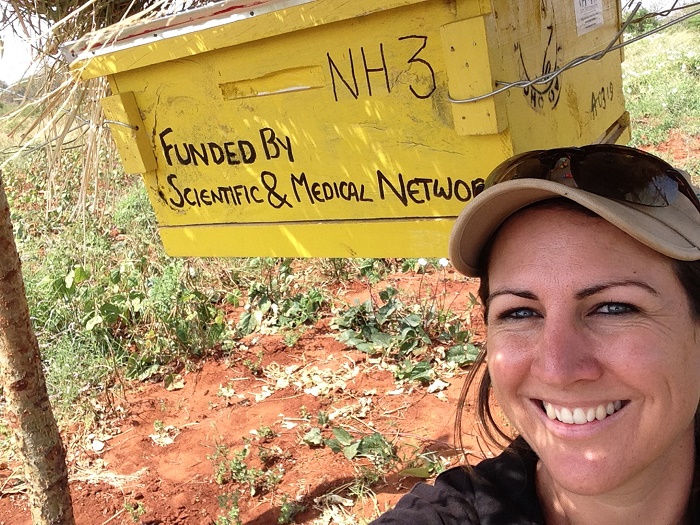 A letter from Dr. Lucy King, speaker at the SMN Mystics and Scientists Conference 2015. In response to her presentation, members collected £2,015 toward beehive fences to protect two Kenyan villages against elephant incursions.
I hope all is well! I just wanted to send you a file of images to show you photos of all the SMN donated beehives that have been painted, taken to our new village project in Mwambiti Village in Sagalla Community and hung up in our two new beehive fences! We have managed to build two fences with the hives donated from your wonderfully generous SMN members, one for Nashon and his young family and one for an old man who lives on his own called Bliston. Both farmers were selected as the no. 1 and no. 2 worst effected by elephant crop-raids in a big village meeting we had last month.
We have ALMOST finished building the last few posts on Bliston's farm (should be finished next week) but Nashon and his wife are totally up and running and we are now waiting for bees to find the new fresh beeswax installed in the hives and settle in!
Thanks once again to all your members at the SMN conference for helping these two farmers both receive a beehive fence sooner than we thought. I know this will help them hugely as they learn to live more successfully with elephants in this community on the edge of Tsavo East National Park in Southern Kenya. (www.elephantsandbees.com)
Best wishes for now from Nairobi,
Lucy
Dr Lucy King, MSc, DPhil.
Head of Human-Elephant Co-Existence Program
Elephants and Bees Project Leader
Save the Elephants
P.O. Box 54667, Nairobi 00200, Kenya