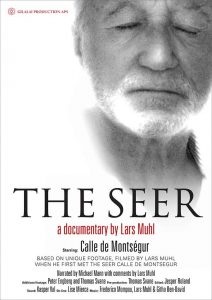 The Seer, Calle de Montsegúr, was Lars Muhl's spiritual mentor. He was capable of not only diagnosing and curing people with distant healing, no matter where they were on the globe, but was also able to read 'The Book of Life', where the destiny of mankind is recorded.
Lars Muhl became an apprentice to The Seer after he healed Lars over the phone of a long debilitating, undiagnosable illness. The film is based on rare and unique footage of The Seer taken by Lars when they first met in 1998, and covers the three years during which Lars was an apprentice to The Seer.
This is a rare first hand look into witnessing The Seer in his element, walking the sacred mountain of Montsegur in southwestern France. We are also with him in his home in Fuengirola in southern Spain as he is treating patients with distant healing. Some of the film footage is filmed with a hidden camera as we journey with Lars through his initiations by one of the most important healers of our time.
Lars Muhl will introduce the film and will be available for a Question and Answer period afterwards.